Fiverr ($FVRR)
A marketplace for freelance services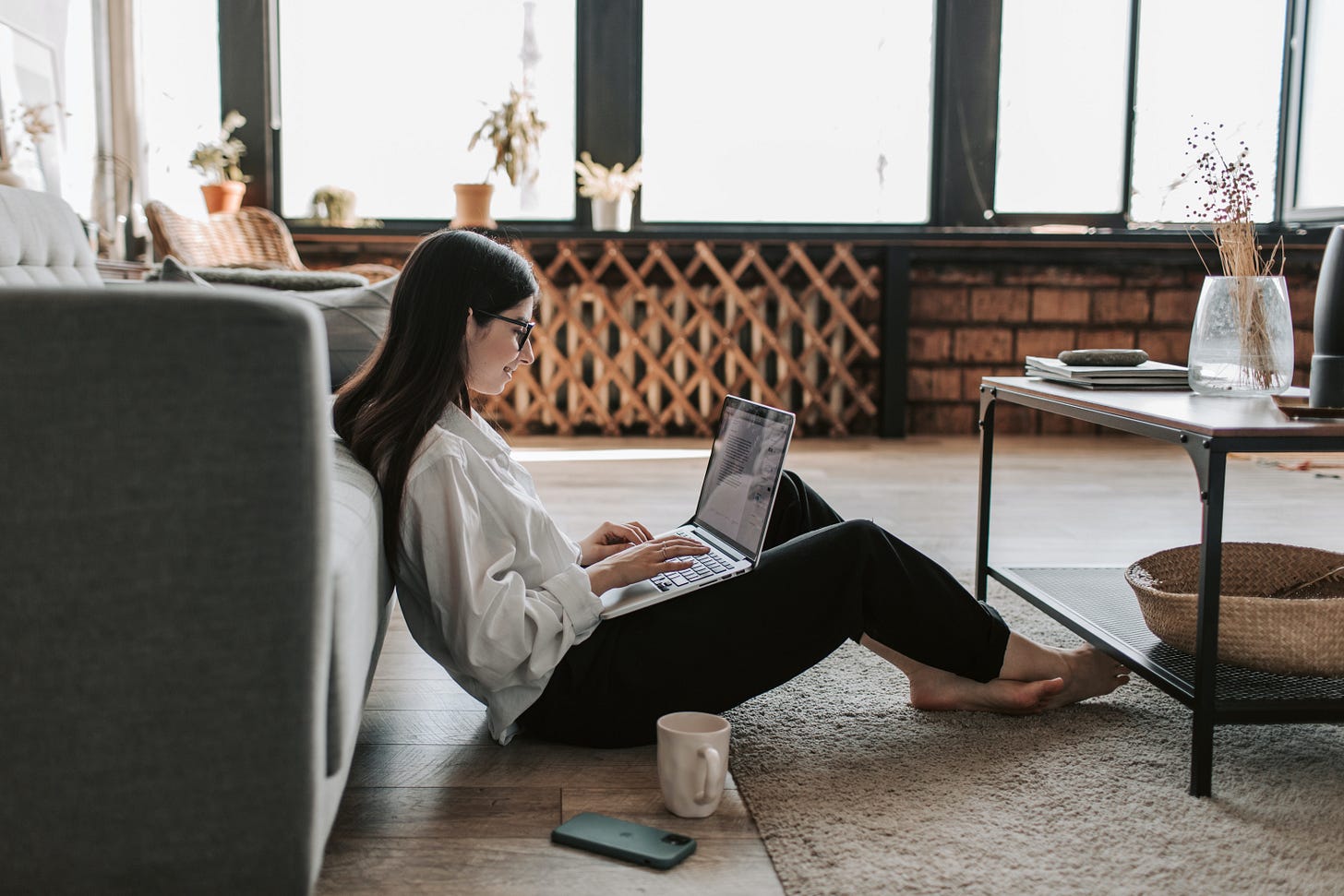 I am a big fan of products & services which help small entrepreneurs or freelancers. I guess I like them because they help small companies with the tools they need to take on large competitors. They also help people win back control over their time, by helping them succeed as freelancers, whether working from their home during a global pandemic or from a beach in Bali, in happier times. Who doesn't want to escape the tyranny of the 9-5?
Fiverr is one such company - a marketplace which allows a wide variety of freelancers to sell their digital services (e.g. copywriting, logo design) to small businesses (and large if they are interested)
What does Fiverr do?
Simply put, Fiverr is a marketplace that solves many painful problems that buyers and freelancers used to experience in the traditional way. Someone once said, "A picture is worth a thousand words". I agree.  So here is a picture describing the problem solved by Fiverr for its buyers and freelancers, from the company presentation.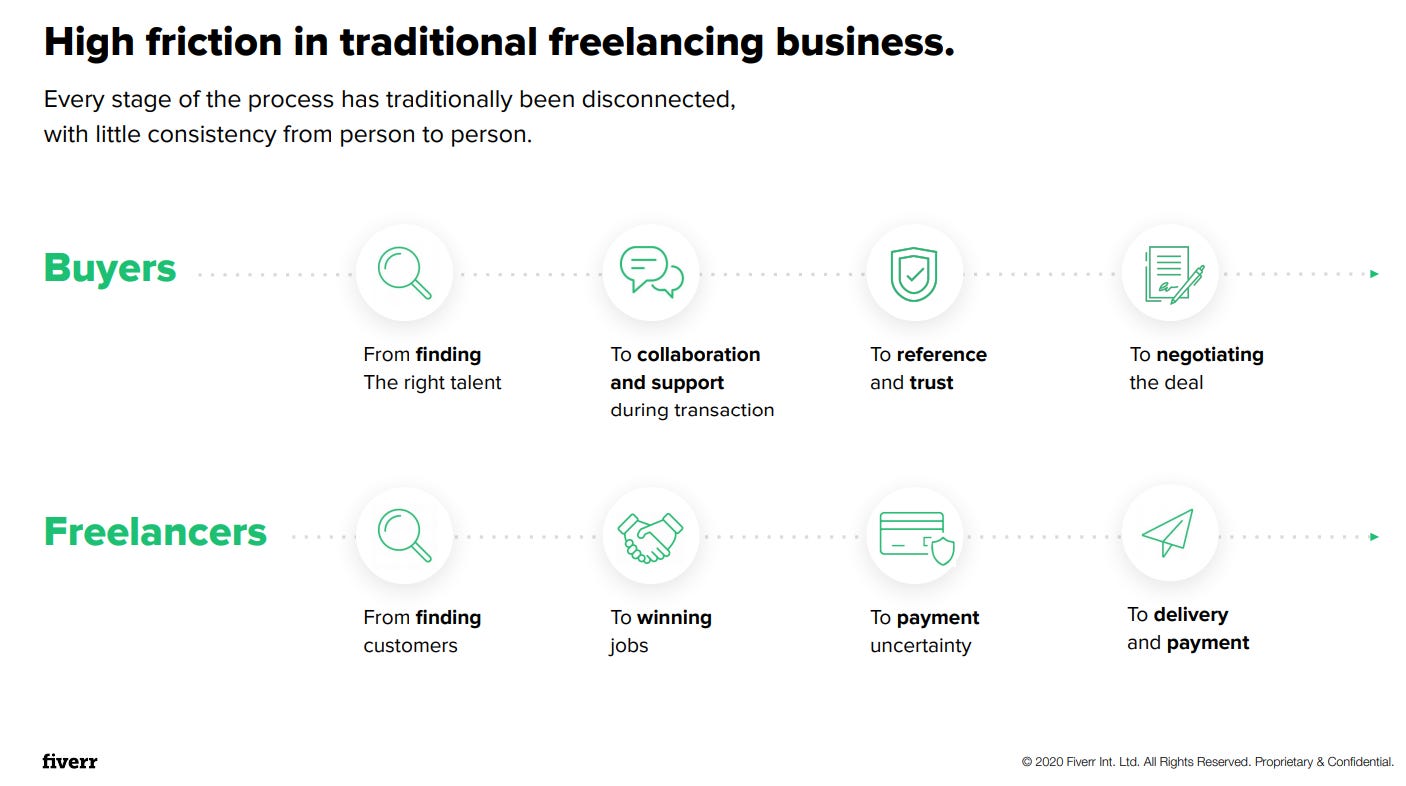 Key stats:
TTM (trailing 12 months) Revenue: $139M

TTM Gross Margin: 80.7%

TTM EBITDA Margin: -13.1%

Revenue Growth (3 Yr CAGR, ending Q2'20): 58%

No. of customers (ending Q2'20): 2.8M

Avg. yearly spend per customer (ending Q2'20)*: $184

Net Debt: (-) $197M [means they have more cash than long term debt]

*Fiverr earns a portion of this spend and the rest of it goes to the freelancer
Things I like
1. Large, growing market
One of the most important things for the long term success of any business is its addressable market size, i.e. how many buyers are there for its products & services, and how much do they spend (both today as well as in the future)
In Fiverr's case, its addressable market is "digital services" that customers want to purchase online from a freelancer.
According to Staffing Industry Analysts (SIA), the total spending on all freelancing services was $1.3T in the US in 2018 and $4.5T globally. Now, this represents all kinds of work and not just digital services, so not all of it is addressable to Fiverr freelancers yet. According to Fiverr's own estimates, its addressable market size for digital freelancing work is closer to ~$100B in the US alone.
It is hard to pinpoint the exact growth figures for Fiverr's addressable market, but we can look at the overall trend of freelancing as a proxy. According to a joint 2019 study by Upwork and Freelancer's Union in the US - there are 3 important trends that point towards the overall healthy outlook of this market:
No. of freelancers are growing: From 54M in 2014 to 57M in 2019 [+7.5%]

Overall freelancers are still only 35% of the total US workforce and have room to grow: This breaks up into 53% of GenZ and 40% of Millennials, while only 30% in GenX and Baby Boomers. As older workers retire and newer young people join the workforce - we can expect # freelancers to keep growing.

Freelancers are increasingly turning full-time: 17% in 2014 to 28% in 2019
Freelancers are increasingly doing freelance work out of choice, and not out of necessity. We are seeing a lot of innovation with remote work technology (e.g. in collaboration tools, video conferencing, etc.), which is making it easier, efficient, and convenient for individuals to work from anywhere and for companies to get used to it. 
Another factor in Fiverr's favor is that it is addressing a global market of buyers and freelancers. According to its latest annual report, 54% of its revenue came from the US, 24% from Europe, and 22% from Asia and the rest of the world. In May, Fiverr launched websites in Franch & Spanish, building on its German launch in February. Local language websites will not only add more to its addressable market but also protect the company from a slowdown in freelancing/economy in any one market
2. Attractive business model, with high gross margins
Fiverr makes money by charging a take rate ("like a commission") on the services offered on its platform. It has a pretty high take rate of 27% on all spend on its platform, leading to very impressive gross margins of 84%. 
The strength of any marketplace depends on its buyers and sellers and how happy they are with the marketplace. Fiverr scores very well in this regard, with very high NPS scores of 66 for buyers and 73 for sellers. This rivals Amazon's NPS of 62, one of the most customer-obsessed companies in the world.
Another proof point of how satisfied buyers are with Fiverr can be seen in the consistently growing average spend per buyer over the years while maintaining high gross margins (see below from Fiverr's company presentation).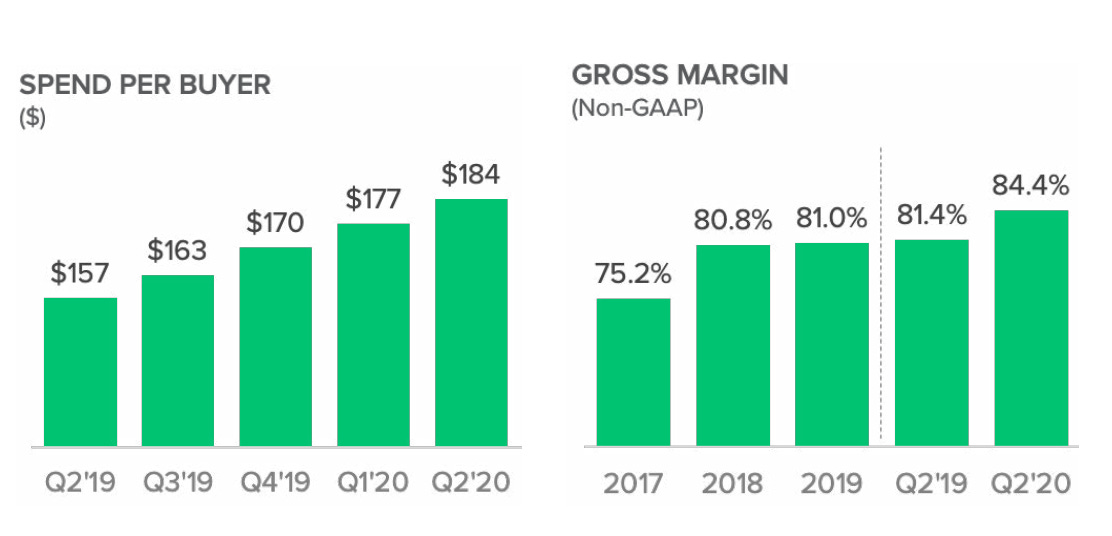 Fiverr is not alone in this space, and does have other competitors like UpWork, TopTal as well as more traditional staffing companies. However, so far, this has not resulted in any downward pressure on Fiverr's take rate or ability to grow.  I will do a deep dive on competitors, esp. UpWork in later posts.
3. COVID tailwinds accelerating growth
Unlike many industries and companies, COVID has been great for FIVERR so far. Many small companies were forced to go digital and needed help from skilled digital workers. Selling services as freelancers (either part-time or full time) can support those who have suffered a loss of income. In the latest quarterly earnings report, we saw Fiverr's revenue and no. of buyers growth accelerate while spend per buyer also kept growing (see below from Fiverr's company presentation)
In fact, this led to Fiverr achieving quarterly operating profit for the first time in its history, and they now target operating profitability for future quarters in 2020 as well.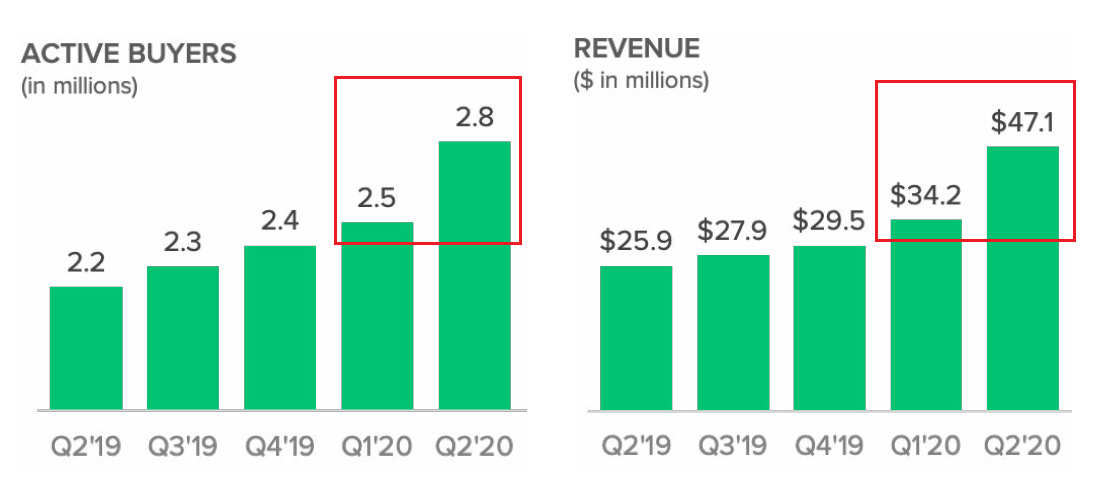 4. Founder led business, with skin in the game
I love founder-led companies, especially early on in their existence. The passion they bring to the company cannot be rivaled by externally hired executives (there are notable exceptions). CEO & Founder Micha Kaufman is a serial entrepreneur, who has a lot of stake in making Fiverr a success (he owns 12% of the company). His team definitely believes in Kaufram's leadership - giving him a 94% approval rating on Glassdoor.
Things I don't like
There isn't a lot that I don't like about the company. I think the biggest risk is related to regulation. As we have seen with recent regulations in California related to Uber drivers - there may be regulatory changes in Fiverr's key markets, that can affect' Fiverr ability to effectively match freelancer services with buyers. However, given the global nature of the company's demand and supply pool - I feel confident in the firm's ability to withstand such pressures. 
The company has only recently shown a profit, so it still has a long way to go before it can prove to the street that it can achieve profitability while maintaining a strong growth rate.
Final Take
At ~30 EV/ TTM Sales, the stock is not exactly cheap. It has had a great run since March lows and is up +425% YTD (year-to-date, ending Sept 18, 2020).  However, quality seldom comes cheap. Fiverr is an early mover in a large, growing market. I believe the freelancing trend is here to stay and Fiverr has shown so far that it has the execution chops to capture the value being created here. I'm long term bullish on the company but will wait for a sizable pullback before thinking about investing.
---
Reading List
---
Disclaimer:  You understand that any content published on "Know Your Stocks" is for information purposes only and is not meant as investment advice of any kind.  You further understand that information about any company, stock, or group of companies or groups of stocks mentioned in any content piece on this publication may be incomplete and does not represent all the risks associated with investing and / or trading in these securities.
"Know Your Stocks" is not intended to provide any tax, insurance, legal, or investment advice, and nothing published here should be taken as a recommendation to buy, sell or trade in any security. You alone are responsible for any decision related to investing or trading in any security, strategy, or any other product or service based on your personal financial situation and objectives, and do not hold the author (s) of this publication responsible, in any way, shape or form.