JFrog ($FROG) - Making software liquid
If you're reading this but haven't subscribed, join the 100+ new subscribers in the last 1 week, to learn about growth stocks and where you should (or shouldn't) be putting your money in.
---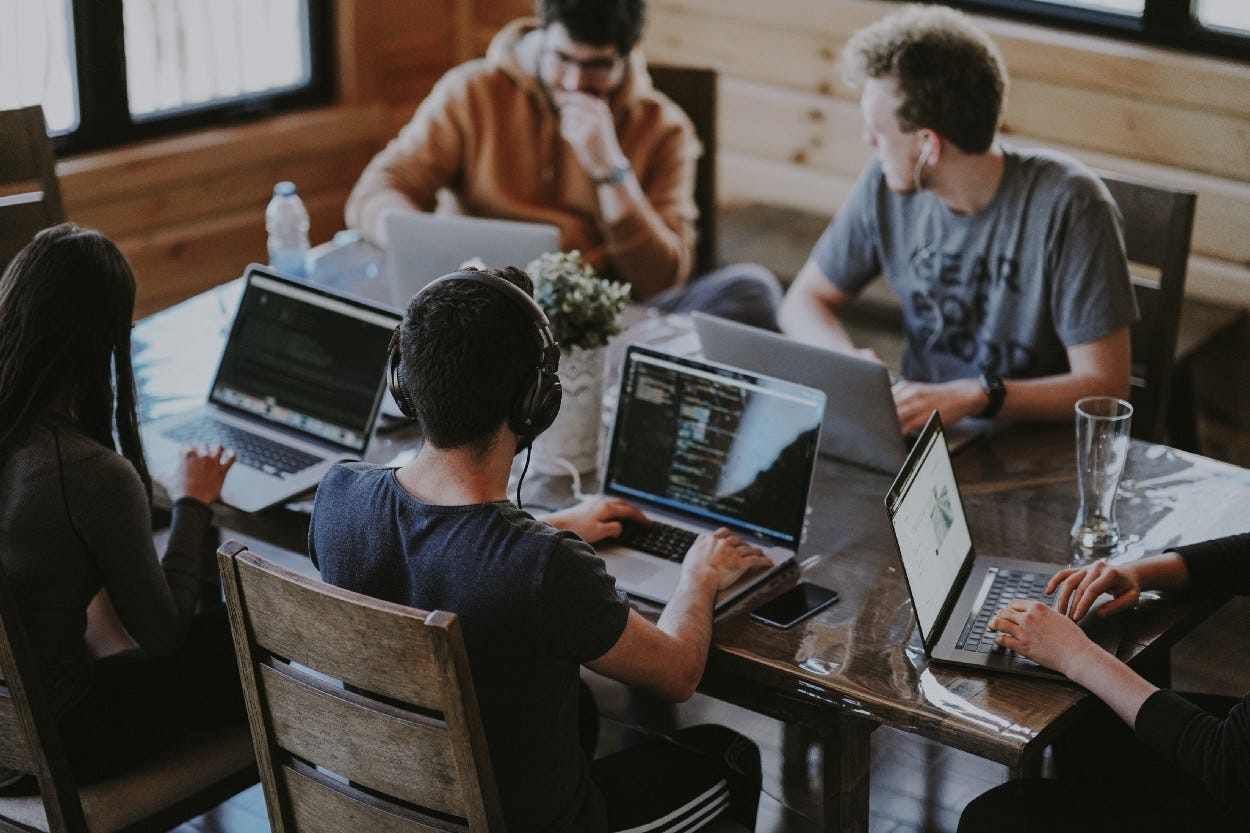 Hi friends 👋,
This week I want to talk about an interesting SaaS company (JFrog), with an equally interesting ticker ($FROG). The company recently had an IPO and a great one at that.
Its raining IPOs these days, and cloud SaaS companies don't want to be left behind. We are witnessing a once-in-a-generation shift in digital transformation, so investors do need to pay attention. However, it is important to separate the good ones from the rest - easier said than done.
Anyhow, Let's dive into JFrog for this week.
What does JFrog do?
Jfrog makes software products for developers to manage their software releases in an efficient and secure way. In industry speak, these tools are often called DevOps (short for development and operations) - If you add an automated review of code for security, into the mix as well, the industry speak is DevOpsSec. 
Unless you are a developer or work in the technical domain in the software industry, it is unlikely that you would have used JFrog's products yourself.
For the uninitiated, the company website does a pretty good job in providing an overview of their products here
JFrog makes money by charging customers for their software use. It's your standard SaaS business model with different packages and pricing depending on the need of the customer. 
Key stats:
TTM Revenue: $128M

TTM Gross Margin: 81%

Free Cash Flow Margin (H1, 2020): +6%

Revenue growth YoY (H1, 2020): 50%

Number of Customers: 5,800+

Avg yearly revenue per customer: $22.1K

Net Debt: (-) $171M [means they have more cash than long term debt]
Things I like:
1. TAM is large and growing
As always, TAM is one of the most important things to judge before investing.
According to IDC, the addressable market for DevOps tools is expected to reach $24B by 2024. This is fueled by both (a) boom in software and software-enabled new businesses, and (b) rapidly accelerating digital transformation of traditional companies. 
Another data point supporting the market is the growth in the number of developers (core users of JFrog's products). According to EDC, the number of developers globally is expected to grow from 26.4M in 2019 to 28.7M in 2024 and to 45M by 2030.
If you believe in the increasing use of software in the world in the future, along with its mission-critical nature, then there are very good reasons to be bullish on the growth of JFrog's market
2. Great SaaS business performance metrics
JFrog has some of the best-in-class SaaS business performance metrics. A quick look:
Revenue Growth: JFrog's total revenue grew 50% YoY [H1 2020 vs. H1 2019]. While the company's overall revenue is still small, the growth rate is impressive and puts it amongst the top decile of SaaS companies.
Gross Margin: In the 6 months ending June 2020, JFrog's gross margin is 81% which puts it amongst the top publicly listed SaaS companies. Gross margin has remained steady from a year ago, implying the company is able to achieve high revenue growth, without sacrificing pricing/competitiveness in any way.
Net Dollar Retention: I think this is one of the most important metrics for a SaaS company [It means if a company earned $100 from a customer in a given year, how much did it earn from the same customer next year. Ideally, you want this to be >100%, the higher the better]. 
JFrog's Net Dollar retention is 139%, which puts it among the best-in-class amongst publicly listed SaaS companies
There are 2 key reasons why JFrog is doing well in this area: 
a) Targeting enterprise customers with multiple products
JFrog has 5800+ customers, with some of the largest companies in the world. 75% of Fortune 100 companies and 27% of Forbes Global 2000 companies are its customers. 
As JFrog is able to target large customers with multiple products, it can effectively upsell and expand ARPU. According to the S-1, 85% of JFrog's revenue comes from a multi-product subscription, with an average yearly revenue/customer of $22.1k.
A quick look at some of JFrog's enterprise customers can be seen below: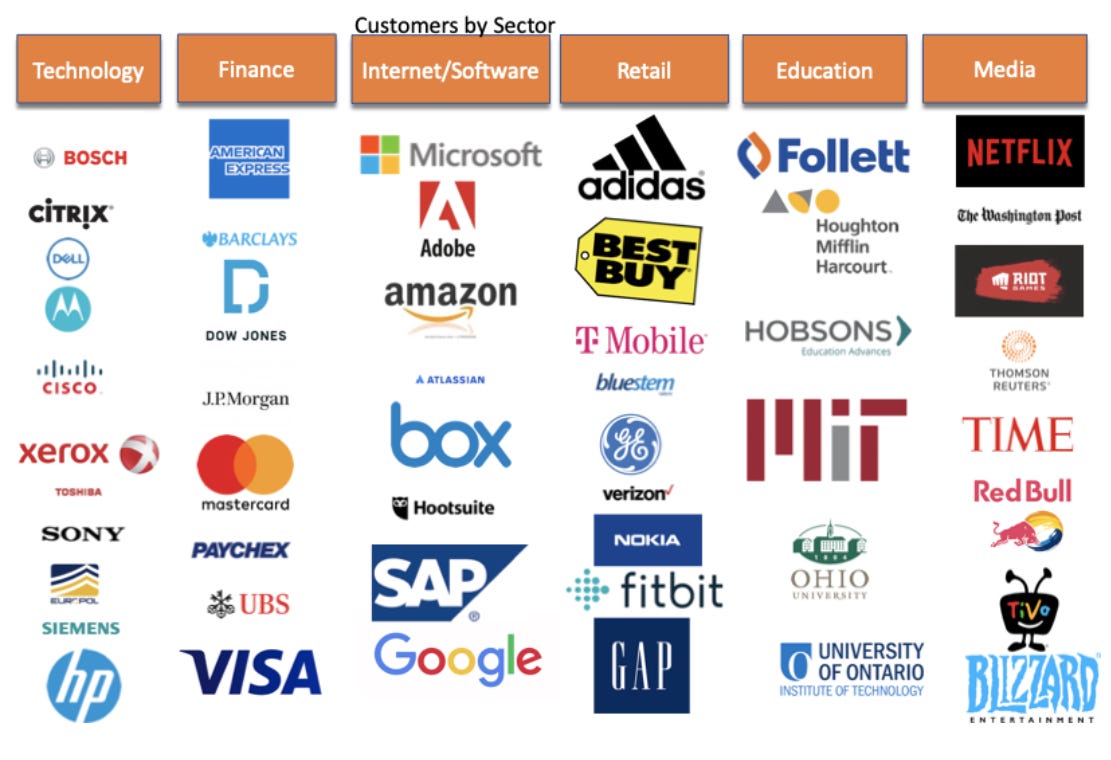 Source: Public Comps
b) Business Model allows growing ARPU with customer's growth
JFrog's business model is also very clever, as it allows it to charge more if their customer grows.  As a company grows, and hires more developers or deploys more software, its storage needs and CI/CD minutes usage will grow. This will mean customers will have keep upgrading to more expensive packages, increasing ARPU of JFrog [see pricing below for reference]
3. Capital Efficiency and "Rule of 40"
JFrog has been capital efficient in its growth so far and has been free cash flow positive for the last 5 years. In H1 2020, it generated a free cash flow of $4.4M, implying an FCF margin of 6%. JFrog has been consistently reducing its operating expenses, dropping from 125% of revenue in 2018 to 82% in H1-2020.
In SaaS, we often use Rule of 40 to judge high growth SaaS companies and their relative capital efficiency. This gives us a perspective on how to balance growth with profitability.
Given the revenue growth in H1 2020 is 50%, this gives us JFrog's Rule of 40 to be 50%+6% = 56% as of H1 2020. This is very impressive indeed, putting it amongst the best publicly traded SaaS companies.
Things I don't like:
Competition
The biggest source of worry about JFrog will be its dynamic competition  [as is often the case in the world of SaaS]. While it has a great set of products, esp. Artifactory, the company does face stiff competition across different stages of software release management (see graphic below).  Special mention should be given to Github (which is a large company, acquired by Microsoft in 2018 for $7.5B) and Gitlab (a fast-growing company, valued in 2019 for $2.75B).
JFrog will have to keep innovating and meet developer needs in order to stay competitive in this field, which is by no means, a given.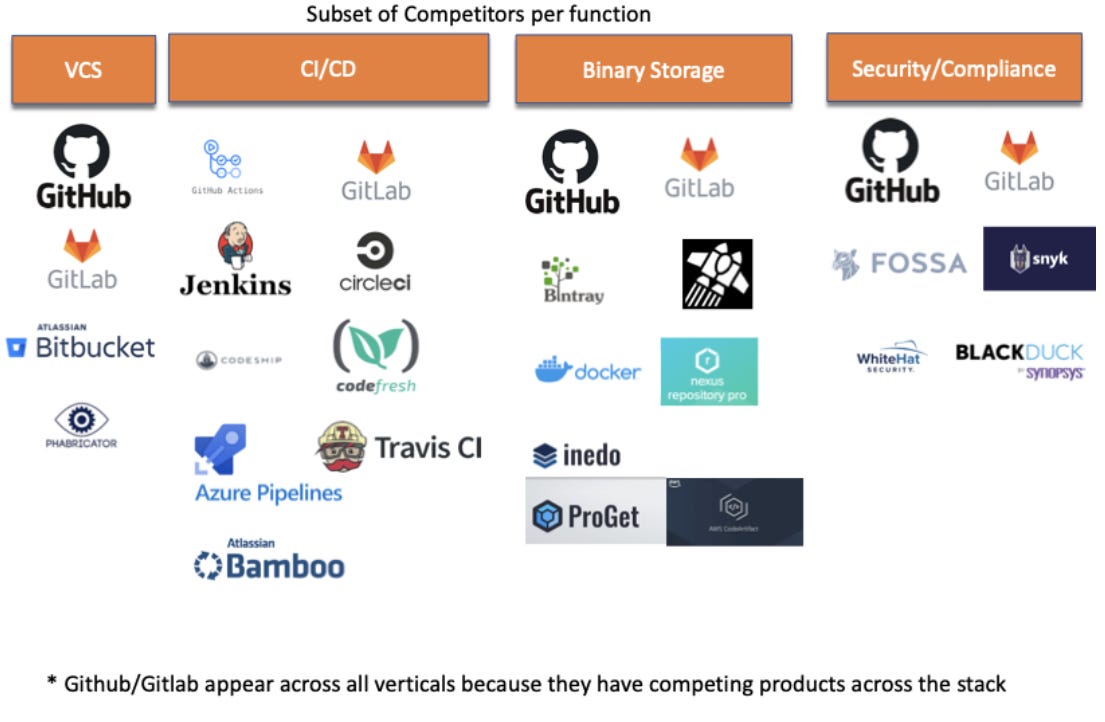 Source: Public Comps
Valuation and Final Take
JFrog had a spectacular IPO (no surprises, given its impressive SaaS metrics) on Sept 15. It is now trading at $74/share (ending Friday, Oct 9, 2020), up +68% from its IPO price of $44 /share.
With an Enterprise Value of $6.7B, JFrog's TTM EV/Sales is 52x, which is very high. Among other high growth SaaS companies, it rivals the multiple of Shopify and only Datadog and Zoom has higher valuation [All these companies have significantly higher revenue growth than JFrog]
Overall I like JFrog's business performance so far and the market it operates in. However, the valuation is too steep at the moment. I will wait for a correction in valuation before opening any new position.
---
Reading List
---
Disclaimer:  You understand that any content published on "Know Your Stocks" is for information purposes only and is not meant as investment advice of any kind.  You further understand that information about any company, stock, or group of companies or groups of stocks mentioned in any content piece on this publication may be incomplete and does not represent all the risks associated with investing and/or trading in these securities.
"Know Your Stocks" is not intended to provide any tax, insurance, legal, or investment advice, and nothing published here should be taken as a recommendation to buy, sell or trade in any security. You alone are responsible for any decision related to investing or trading in any security, strategy, or any other product or service based on your personal financial situation and objectives, and do not hold the author (s) of this publication responsible, in any way, shape or form.