Salesforce ($CRM) - A fantastic compounder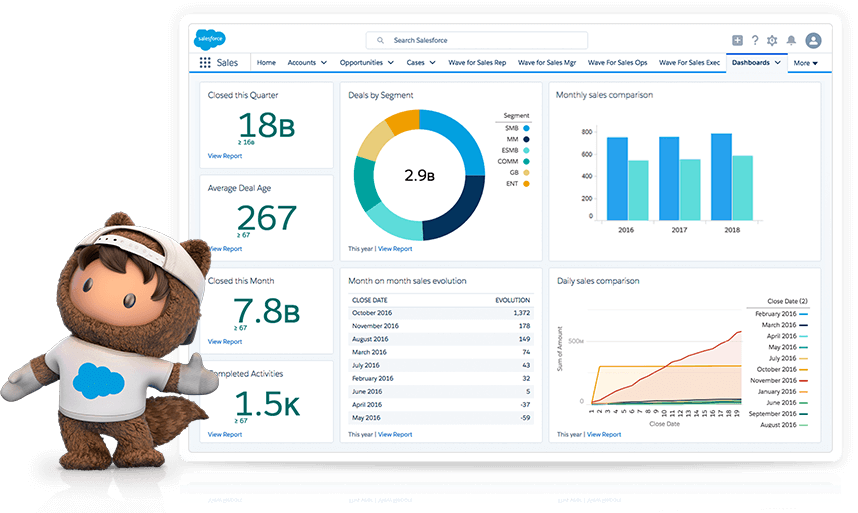 Marc Andreessen, famously, said once, "Software is eating the world". Well, I would like to add to it and say, "Cloud is eating the Software world". 
Software-as-a-Service (popularly called "SaaS") solutions are software applications which are hosted on the cloud, and sold as a subscription to customers.  According to a Bessemer Venture Partners study, SaaS market is growing 20% annually, i.e. 2x the growth rate of all enterprise software market, thought it is still only 20-30% of the total market. If the current trend continues, and there is no reason to believe it shouldn't, we should expect SaaS to be ~50% of all enterprise software market by 2025. We are talking very big numbers here -  SaaS collectively has already crossed  ~$100B+ in annual run rate.
Salesforce was a pioneer in SaaS and still continues to be one of its biggest champions!
Key Stats
TTM Revenue: $19.4B

TTM Gross Margin: 74.6%

TTM EBITDA Margin: 10.8%

TTM Free Cash Flow: $6.0B

Revenue Growth (3 Yr CAGR): 27.2%

# Customers (est): ~150,000

Average revenue per customer (est): ~$130,000

Net Debt: (-) $3.095B
Why I like Salesforce
Salesforce is a widely covered company and you can find many articles and reports, extolling its virtues - its dominance in SaaS, especially Customer Relationship Management (CRM) software market, endless stream of product innovations, an incredible partner ecosystem, terrific sales execution, a very high quality management with a passionate founder-CEO. Any of these factors, alone, can make a company great. Collectively, they make Salesforce a juggernaut. 
However, today, I want to focus on one specific reason why I think Salesforce will continue to dominate SaaS in future. As someone with experience in a SaaS company, I have seen a lot of innovation happening in the industry. Technologies change, new products get created and customers switch products, if the reason is compelling enough. Hence, for a company to continue to grow, it needs to keep improving its existing products and launch newer, better ones, often in completely new software markets.
And this is very hard to do - as you have to get the balance right between servicing your existing products and focusing on developing new ones. Very often, your own scale becomes an impediment to innovation. 
Hence, a lot of SaaS companies create new products by acquiring them, either at an early stage when they barely have any customers, or sometimes when they are already well established market leaders. If done well and on time, acquisitions not only reduce time-to-market for software companies significantly but also take out potential future competition.
Using acquisitions to drive growth
I believe Salesforce has done remarkably well because it has combined its strong organic growth in its existing categories (e.g. Sales Cloud), with important strategic acquisitions that has enabled it to grow strongly into new categories (e.g. Marketing Cloud). This has become especially important in the last few years, as many strong Cloud SaaS competitors have emerged.
In the picture below Dreamforce'19, we see the many acquisitions Salesforce has made to build its solution in different categories.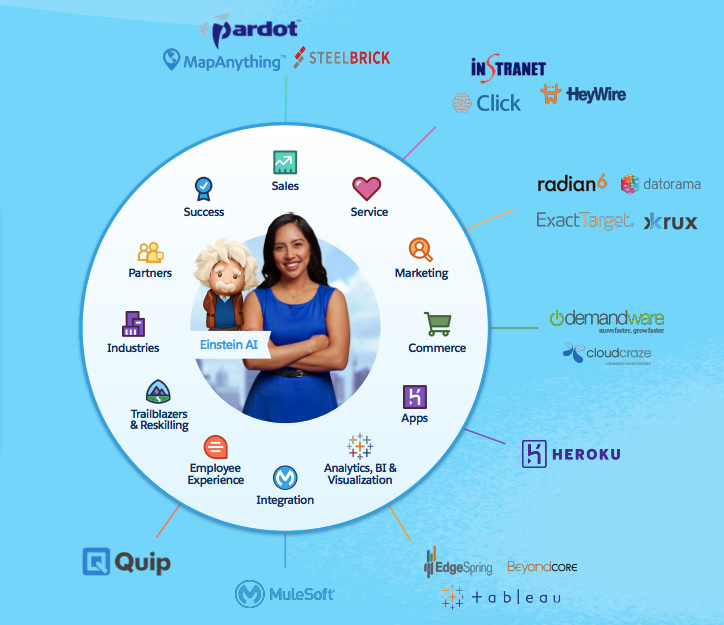 Marketing and Commerce Cloud
Salesforce built its solution in "Marketing and Commerce Cloud" by acquiring and integrating many different companies over the years. Just the ones listed below (and there were more) was about ~$7.2B in acquisition spend.
Demandware - A cloud-based e-commerce solution, bought for $2.8 billion in 2016. This became the basis of Salesforce's Commerce Cloud solution. 

Cloudcraze - A B2B cloud e-commerce platform, acquired in 2018, for an undisclosed sum.

Datorama - A single platform for marketing analytics, bought for $766 million in 2018.

ExactTarget - An email marketing solution, bought for $2.5 billion in 2013.

Krux - An ad tech company, acquired for $742 million in 2016.

Radian6 - A social media monitoring platform, acquired for $337 million in 2011.
Collective, Marketing and Commerce Cloud solution generated ~$0.6B in revenue in Q2' FY 21 (Source: Earnings report) and is growing at 21% YoY - faster than Salesforce's older solution areas of Sales Cloud and Service Cloud.
As Salesforce already has large enterprise customers from its other solutions, esp. Sales and Service cloud, acquiring and building new solutions allows Salesforce to sell these new solutions to its existing customers, to rapidly scale revenue.
The below picture from Dreamforce'19 makes this point very clear - no. of customers using Salesforce Multi Cloud (i.e. more than one Cloud solution) has increased from 29% of all customers in FY 16 to 40% of all customers in FY 20. As the same customer buys different cloud solutions, they spend more - as much as 20x more! 
This is a clear advantage of Salesforce's scale. And the reason why it makes sense for Salesforce to continuously build more "solution areas" via acquisitions. Building solutions in these new categories allows Salesforce to continuously grow rapidly even at such a large scale.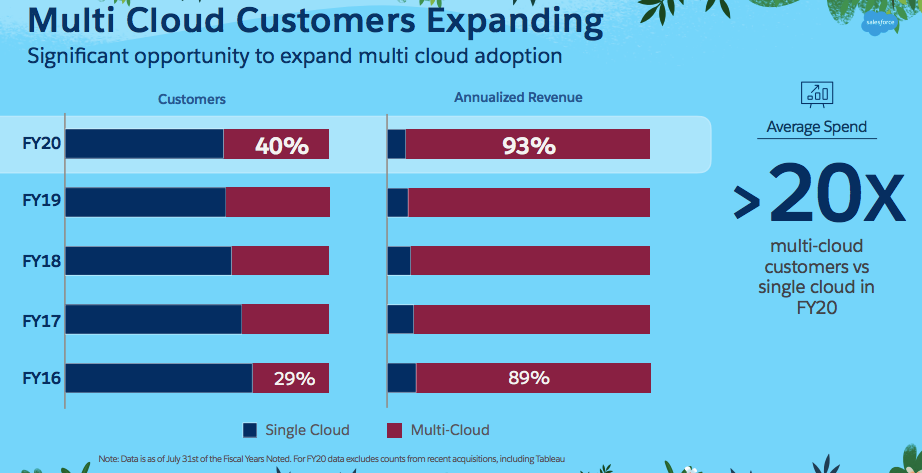 You see this happening more recently as well, with Salesforce doing very large acquisitions in new categories.
Platform, Integration & Analytics Cloud
While Salesforce built its platform a while back, it has been buying more companies to build this solution area - especially in the Integration and Analytics space.
In 2018, Salesforce acquired MuleSoft for $6.5B. MuleSoft software helps different software applications speak to each other, whether cloud or not (I am simplifying). As many large customers still have a lot of their applications and data on their own servers (i.e. not on the cloud) this acquisition helps salesforce targets those customers and helps remove the impediment for them to buy Salesforce solutions.  
According to Chetan Puttangunta (ex- Board Member of MuleSoft), at the time of acquisition, MuleSoft had a $355M revenue run-rate growing 60%. One year later, MuleSoft had a $724M revenue run-rate growing 104%. MuleSoft is now likely well over $1B revenue run-rate.
Tableau is another interesting one. Salesforce paid a very hefty price of ~$16B to acquire Tableau in 2019 - to build its solution in the Analytics, a very fast growing SaaS category. I have no doubt in my mind that Salesforce will be able to grow revenue from Analytics cloud significantly in the coming years.
Collectively, Salesforce's Platform, Integration and Analytics (incl. some other solutions) is already its large solution area (Q2' FY21 revenue of $1.7B) and fastest growing at 66% YoY.
As SaaS evolves and new categories emerge, I believe Salesforce can successfully enter new categories via acquisitions, as we have seen it do in the past - creating new growth engines for the company in future.
Final Take
Salesforce stock jumped significantly after its stellar earnings recently, but has since pulled back a bit, along with the wider technology sector. This remains one of the key risks in owning Salesforce stock (though this risk exists in all technology stocks). 
However, in wider market pullbacks, great companies like Salesforce often fall less than the market and are the first ones to rise back up.
Salesforce is a phenomenal company - a cash flow generating machine at an incredible scale. Even in the middle of a global pandemic, they managed to have one of the best quarters in the history of the company. 
I see the long term future prospects of Salesforce to be very bright.
Disclaimer: I have a currently active long stock position in Salesforce
---
Reading List
---
Disclaimer:  You understand that any content published on "Know Your Stocks" is for information purposes only and is not meant as investment advice of any kind.  You further understand that information about any company, stock, or group of companies or groups of stocks mentioned in any content piece on this publication may be incomplete and does not represent all the risks associated with investing and / or trading in these securities.
"Know Your Stocks" is not intended to provide any tax, insurance, legal, or investment advice, and nothing published here should be taken as a recommendation to buy, sell or trade in any security. You alone are responsible for any decision related to investing or trading in any security, strategy, or any other product or service based on your personal financial situation and objectives, and do not hold the author (s) of this publication responsible, in any way, shape or form.