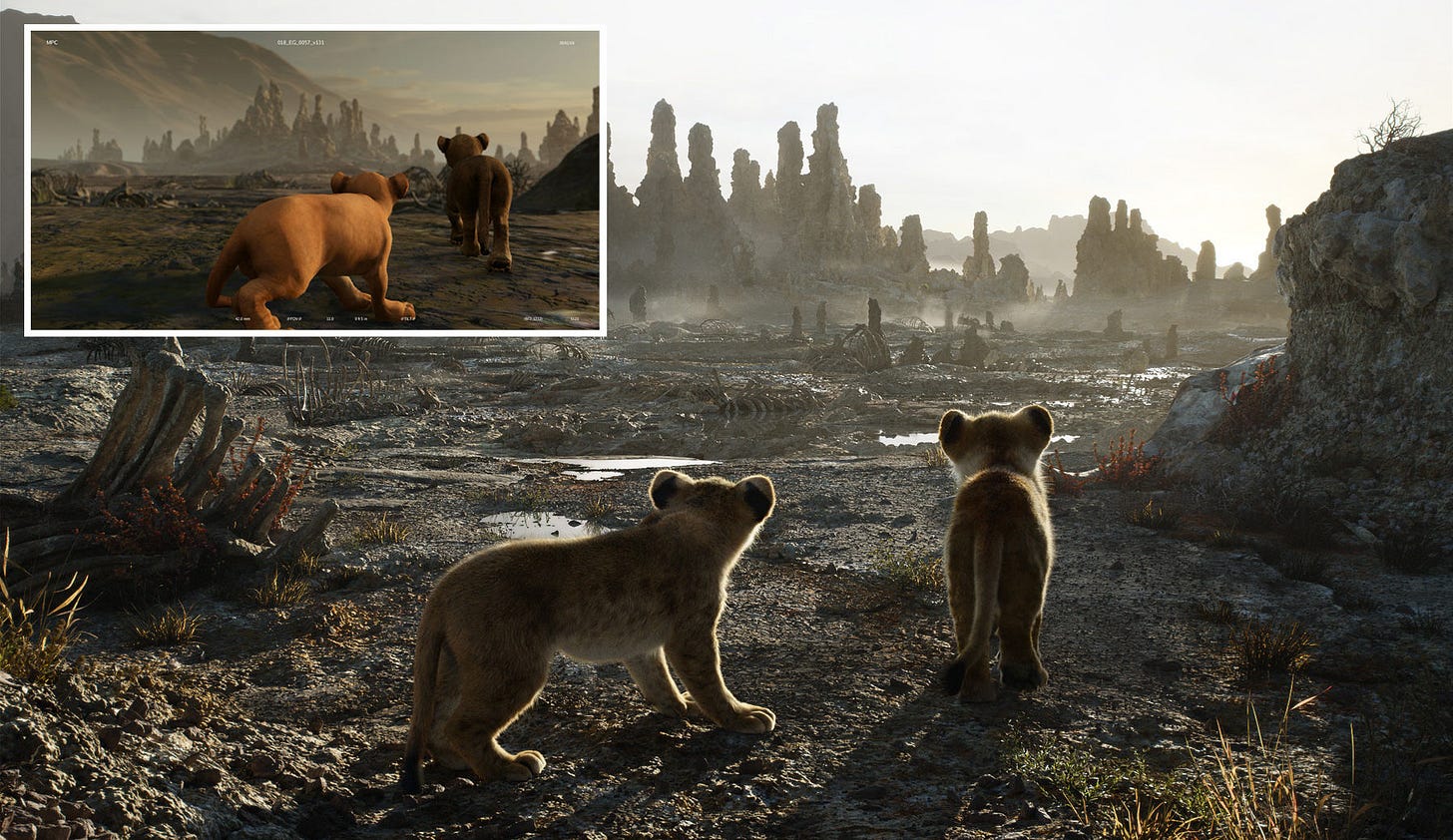 The Elephant Graveyard in Unity and the movie shot. Image credit: Disney / MPC
What does Unity do?
Unity is a very cool company, with an equally impressive business. It mainly has 2 main sources of revenue.
Create Solutions: 30% of revenue
Software which allows creators (artists, developers etc.) to develop many different types of content across platforms (Mobile, PC, incl. Virtual Reality). The company charges a monthly subscription fee for this solution, across various tiers.
Smash hit Pokemon Go was built on Unity.
Operate Solutions: 61% of revenue
A wide variety of software and solutions that allow content / game creators to operate and monetize their games (e.g. analytics to optimize engagement, In-App Purchases). Unity charges a share of the revenue that content /game creators make or sometimes usage based fee. This is a healthy business model as it grows with the usage of any game / content using Unity operate solutions.
Key to note here is that customers can use Operate solutions even on content that was not created on Unity.
Unity's entire portfolio of products shown from their S-1:
Key stats:
TTM Revenue: $640M

TTM Gross Margin: 80%

Free Cash Flow Margin (H1, 2020): -10%

Revenue growth YoY (H1, 2020): 39%

Monthly Active Creators*: 1.5M

Net Debt: (-) $196M [means they have more cash than long term debt]
* No. of creators using Unity products. Company does not specify total number of customers
Things I like
1. Large, growing TAM, both in gaming and outside gaming
Unity is a well established player, in Gaming - A mature industry with a TAM of $12B, growing at 6% yearly). Unity estimates that globally, in 2019, 53% of top 100 mobile games on Apple and Google were built on Unity. 93 of the 100 biggest Game development studios, by revenue, were Unity customers.
However, what's more exciting is Unity's opportunity in expanding beyond gaming. The TAM, according to the company, is already higher than gaming, at $17B, and Unity is making some big moves.
In the last 6 months, ending June 30, Unity's large customers ($>100k in TTM revenue) outside gaming have grown from 48 to 60. Overall, it has 750 customers outside gaming.
Some of the marquee customers include Volvo, Skansa (a Construction giant) etc. Even Disney's 2019 Lion King used the Unity game engine.
2. Revenue growth is accelerating, but efficiently
Unity's revenue growth has accelerated recently, and is now ~39% YoY, 6 months ending June 30. In the same time period, Sales and Marketing cost, though has only grown at 10%.
This is a great sign that Unity is pursuing growth efficiently. I think this is a result of two factors:
Focus on larger customers
In the last 10 quarters, No. of large customers (>$100k TTM Revenue) have grown from 389 to 716. Their contribution to Unity's overall revenue has increased from 63% to 74%. Focusing on large customers is usually higher ROI for companies, as all else being equal, sales and marketing costs are more efficient.
Increase in revenue from existing customers
In the software industry, it is cheaper to grow revenue from existing customers than to acquire new customers. The commonly used metric to measure this is Dollar-Based Net Expansion Rate - which means revenue generated over a current period from a set of customers divided by all revenue from the same set of customers in a previous period. So for example, if a customer spend $100 in year 1 and $110 in year 2, Net Expansion Rate is 110%.
Unity's dollar-based revenue expansion ranged from 122-142% over the past 10 quarters. This is a great sign as customers are increasing their spending on Unity products every year. Unity's net expansion rates are in the upper quartile of all high growth SaaS companies.
3. Asymmetric opportunity with Augmented Reality / Virtual Reality
Unity is already one of the leading AR / VR platforms for creating content and applications. Tech giants like Facebook and Apple are spending a lot of money in driving innovation in this space.
In a leaked email from Mark Zuckerberg of Facebook from 2015, he writes:
Our vision is that VR/AR will be the next major computing platform after mobile in about 10 years. It can be even more ubiquitous than mobile - especially once we reach AR — since you can always have it on. It's more natural than mobile since it uses our normal human visual and gestural systems. It can be even more economical, because once you have a good VR/AR system, you no longer need to buy phones or TVs or many other physical objects — they can just become apps in a digital store.
If we see technologies improve and AR / VR become a dominant compute platform in the future, Unity can be a major beneficiary. It is no surprise that allegedly Facebook tried to acquire Unity in the past.
Things I don't like
1. Platform risk
Like what we saw with Epic games recently, Google and Apple control Unity's access to end consumers [for mobile games] and this poses platform risk for Unity. This is a serious issue, for at least part of its business, and the company talks about this risk a lot in their S-1. They have to find a way around this [this is not a unique problem to them but good companies don't rely on others for their success]. Unity's foray into industries outside gaming, and their revenue from non-mobile games should reduce this risk to some extent.
Similarly, Apple's move earlier on IDFA posed a similar risk, although they have since pulled it back. But I don't think we have heard the last of it.
2. Competition and drain on free cash flows
Unity faces competition in a dynamic environment. Direct competition is from Unreal Engine, from Epic games. However, Epic's business model is slightly different as it only charges on revenue share basis while Unity has a fee based model. This means Unity is less reliant on games becoming a "hit", and can benefit from a large number of games built with various degrees of success. However, gaming is an ever evolving field and new models emerge fast. Roblox is another fast growing player in the gaming world, who has a completely different approach.
For their Operate solutions business, Unity competes in a fragmented ecosystem with divisions of many large companies like Apple, Google, Tencent, with very large R&D budgets.
In order to compete in this industry, I expect Unity to continue to have very high R&D costs, which will be a drain on its free cash flows. Unity's R&D cost grew by 40% YoY to $167M in H1, 2020 and now represent 47% of its revenue. While R&D costs are usually a sign that the company is innovating, any slowdown in revenue growth can make the cash flow situation quite bad for the company. It has to continue innovating smartly, and operate efficiently to generate returns on its R&D.
Valuation and Final Take
Unity had a spectacular IPO (no surprises) on Sept 18, and since then has gone on to reach a market cap of $22B (~$83.5 / share, ending Friday Oct 2, 2020), resulting in an EV / Sales (TTM) of 35.3. This valuation puts it in the category of other high growth SaaS companies like Docusign, Cloudflare who are also growing revenue upwards of 40%.
Overall I like Unity's leading position, and its future growth prospects. The valuations are quite rich in the tech sector right now, so any cooling off can present good opportunities for new entry.
---
Reading List
---
Disclaimer: You understand that any content published on "Know Your Stocks" is for information purposes only and is not meant as investment advice of any kind. You further understand that information about any company, stock, or group of companies or groups of stocks mentioned in any content piece on this publication may be incomplete and does not represent all the risks associated with investing and / or trading in these securities.
"Know Your Stocks" is not intended to provide any tax, insurance, legal, or investment advice, and nothing published here should be taken as a recommendation to buy, sell or trade in any security. You alone are responsible for any decision related to investing or trading in any security, strategy, or any other product or service based on your personal financial situation and objectives, and do not hold the author (s) of this publication responsible, in any way, shape or form.